SHOP
Open Tuesday, Thursday and Sunday 10.30 - 3.30 Just turn up or you can pre-book (To Book)
The cost of booking includes entry into the nature reserve and a small donation.
Don't just shop have a wander around the nature reserve.
When you shop at Naturezones (NWET) you are supporting our
Natural History education programme
We also have a selection of wild flower perennials in our Nursery
Wildflower Seeds, Scented Candles, Greeting Cards,
Support our work and message - Make a Donation
SOW ONE OF YOUR FAVOURITES (£6.00/pack)
General Meadow Areas - Red Campion, Tansy, Birdsfoot Trefoil, Cowslip, Wild Carrot, Kidney Vetch, Meadow Cranesbill,
Musk Mallow, Field Scabious, Wild Marjoram, Oxeye Daisy
For Wet Areas - Ragged Robin, Purple Loosestrife, Meadow Sweet, Water mint
Wild Flower Mixtures - Cornfield Mixture, Seeds mix for Sandy Soil, Seed mix for wet area, Seed mix for woodland, Seed mix for dry hedgerow area, General wild flower mixture
Wild Flower Seeds
Naturezones Special Wildflower Seed Mixture
Cornfield Annual Mixture and a mix of wildflower perennials including...
Wild Carrot, Lady's Bedstraw, Common Knapweed, Musk Mallow, Self Heal, Meadow Buttercup, Red Campion
Enough for a 10 sq.m area
As you will know seeds are very expensive. We are providing excellent value for money. Normal price for a packet this size would be £45.00
Our amazing price is £15.00 inc P&P
OUR OWN LUXURY SCENTED CANDLES
They come in tins or recycled jam jars. Fragrances are designed by us and are
Meadow Flowers, Scents of Spring, Rippling Stream and In the Hedgerow.
We use top quality paraban free ingredients not tested on animals
Price £12.95
Rippling Stream - Meadow Flowers - In the Hedgerow -Scents of Spring
Celebrating our Biosphere Island
Biosphere Isle - Ceramic mug with blue rim and handle. Special edition (500) £18 + P&P
Greeting Cards by Angela Hewitt
Please note Card orders will go through Angela's site
£15.00/pack of 6 cards
PLANT CENTRE
We specialise in native species plants,
wildflower perennials and wildflower seeds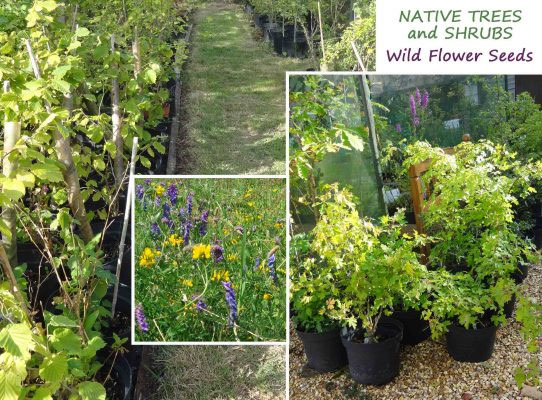 Create a wildflower patch for bees, butterflies and many more insects
Meadow Growing Instructions (pdf file)
Native Species Plants now available from our Blackwater Centre.
and a wide range wildflower seed and mixes for various soils from £6.00/pkt
Winter Wildlife Gardeners programme and art group session is being run at our nature reserve in Blackwater by Angela Hewitt
Info about Naturezones founder Angela www.angelahewitt.co.uk