STOP PRESS
More good News for Naturezones
Heritage Lottery Grant now approved for Transitional Funding
We have been awarded £28,000 to help develop our self-funding ambitions. The grant will include advice from experts. Research into other similar organisations, financial support to make us more regularly accessible to the community, set up a young directors scheme and further training for volunteers and session workers. This is a massive step forward for us. it will bring us into the mainstream of The Island's natural history education and give us future sustainability for the posterity of our organisation. We are very excited that the world famous Wild Fowl and Wetland Trust (WWT) will be our main advisors.
Project manager Angela Hewitt said "Sir Peter Scott has been the main influence behind the creation of Naturezones and it is a dream come true to be working with the WWT.
New Education Centre - The Planning Department have approved our application for a new Education Centre and workshop. This will allow us to run indoor activities, lectures and workshops during the winter. Our normal outdoor activities are still the mainstay of our ethos but this small expansion makes us available to more communities. We now have the grand task of fund raising.
Springwatch. Do Something Great
Become a volunteer at Naturezones
Drop in on Nature
Awards for All, run by the Big Lottery Fund has granted us £8,000 to run drop in sessions for parts of the community that are disadvantaged. The elderly and infirm, people with health problems and dementia, carers and the cared for, children with their grandparents and the elderly who are isolated . The grant has afforded a path way for wheelchair access, seating for resting points around the nature reserve and materials for craft activities and nature observation
FRIENDS of Naturezones support our important work
make it a gift for Christmas
Family membership is for 2 adults and up to 3 children

The shop has moved back to our nature reserve at Blackwater
Open Wednesday 10am - 3pm, Thursday 10.30 - 3.30 and Sunday 11am - 4pm
.....AND NATURE GIFTS
enter PLANT NATIVE site here
DEMONSTRATION OF HAY MAKING USING A TWO WHEEL TRACTOR, POWER SCYTHE AND MINI HAY BALER - Video is at bottom of page for courses/workshops
Notice Board 22/8/16
Directions can be found on the MAP page
FUND RAISING
We need to raise £20,000 for our New Education Centre. Your support will be greatly appreciated
Please donate £5.00 now
THANK YOU
NOW OPEN FOR VISITORS
Weekends and Thursday 10.30 - 4pm
Entrance £3 donation includes tea and biscuits cake £1 extra
Explore the nature reserve and learn about nature. Do a quiz and earn a wise owl badge - see stop press
Learn how to create a wild flower patch
Buy an unusual gift in out nature shop
Children's Parties on the Isle of Wight
6 - 12 years. We provide two and half hours of nature-explorer activities. Minimum 10 children. Parents provide birthday cake
Nature Nymphs and Dragonflies - Every week during school terms. No need to book
Wet weather gear an almost certainty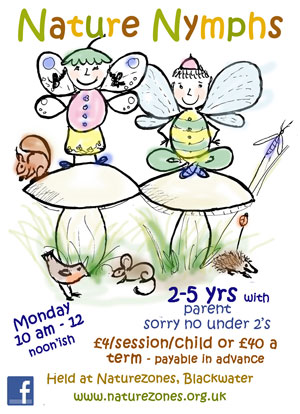 Please note Nature Nymphs and Dragonflies are held at our nature reserve in Blackwater
WANTED -
VOLUNTEER WARDEN 1 - 2 days per week. Expenses paid
Meadow Growing Instructions (pdf file)
Native Species Plants now available from our Blackwater Centre. also of local provenance hay/yellow rattle seed £3.00, Bluebell seed £4.00 and a wide range wildflower seed and mixes for various soils from £3.00 pkt
Open Wednesday 10am - 3pm
TALK/PRESENTATION
Please contact Angela if your organisation would like to hear one of Angela's visually supported talks "Naturezones - Beginnings" or "How to Create a Wild flower Area"
Green Girls and Gals
Conservation Club
Wide range of seasonal activities - learn about conservation while caring for a small nature reserve (school leavers to senior citizens)
10.30 - 1.30 Sub' £3 (concessions) includes refreshment
next dates....
Every wednesday
Supporting each other
We sell their squirrel feeders and Dreys